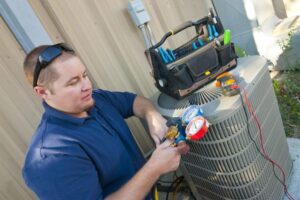 We're the company that locals call when they need an HVAC company in Loveland, CO, that they know they can trust. We've seen and done it all when it comes to AC repairs over the years. There's still one AC problem that can send chills down our spine—though it won't do anything to help your AC chill your home! That problem is the refrigerant leak, and it is a very serious problem indeed.
Your air conditioner shouldn't run out of refrigerant. It shouldn't need a refrigerant top-off at any point. That refrigerant loop is supposed to be a closed system. Low levels typically mean that there is a leak present, and that is a job that only a trained, experienced technician can handle. We'll find the leak, we'll seal the leak, and we'll make sure that your refrigerant charge is right back up to where it should be.
What Is the Function of Refrigerant?
Cooling your home. No, really. We're not being snarky. Without refrigerant, your air conditioner doesn't cool, period. And no, refrigerant isn't some mystical fluid that remains cold at all times and allows your AC to maintain comfortable temperatures.
What refrigerant actually is is an incredibly effective heat transfer fluid. This is due in large part to the fact that it changes between liquid and gaseous states so easily. Refrigerant evaporates in your AC's evaporator coil, which draws heat out of the air in your home. Then it is condensed in your condenser coil outdoors. That allows the heat to be released outside. The process just repeats until desired temperatures are met.
Low Charge? Big Issue
If you have a refrigerant leak, even a tiny one, your AC is going to suffer. The lower the refrigerant charge, and the more you run your system, the worse off your air conditioner is. That's a bit of a self-fulfilling prophecy, too. Your AC won't be as effective with a low refrigerant charge, so it is inherently going to run harder.
This leads to insufficient cooling. It drives up energy costs, as more electricity is used by your AC to achieve subpar results. Your air conditioner incurs unnecessary wear and tear, meaning that the risk of operational problems is greatly increased. It can also cause short cycling, icing on the coil that creates an insulating barrier, and a lot more.
Contact Us If You Run Into Trouble
You cannot afford to wait when it comes to resolving problems with refrigerant leaks in your air conditioning system. The longer that you do, the more likely it becomes that your system will be irrevocably damaged. An AC that is forced to run on a low refrigerant charge can suffer compressor failure, all but guaranteeing the need for replacement.
If your system isn't cooling your home effectively, if operating costs skyrocket, or if you notice your system running in short bursts, dial our number right away. We'll get to the bottom of the problem.
Schedule your AC services with Fort Collins Heating & Air Conditioning, the company you can trust.