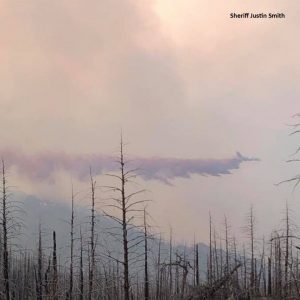 We're taking a bit more of a serious approach to today's topic of discussion. We always love sharing helpful tips and information with our readers, but the current situation with wildfires in our area has added some amount of urgency to this post. With the Pine Gulch fire having just surpassed Hayman fire as the largest in our history—burning over 139,006 acres—and the Lewstone Fire having just been contained, these issues are at the forefront of everyone's mind.
We want to take this opportunity first and foremost to express our sympathies to those directly affected by these blazes, but we also want to address those homes being more indirectly affected by the flames and heat of the fire. Even for those homes relatively removed from the fires themselves, the issue of indoor air quality in Fort Collins, CO demands more attention than ever. We want to make sure that you're aware of how you can protect your IAQ this season.
Air Purification Is the Answer
You've certainly seen us talk about what a good air purifier can do for your indoor air quality during regular seasons. To protect yourself from the odors and health issues related to smoke and its inhalation, though, you really want to be sure that you are using the right air purifier for your needs. Remember, not every air purifier is going to resolve every issue.
When it comes to smoke, you do want something that can remove particulates from the air. It's not just an air freshener that you're after. A good HEPA (high-efficiency particulate air) filter will be able to remove particle concentrations in your home, up to 85% according to the environmental protection agency. Electronic air filters are a great option for removing smoke particles, and you don't have to replace them the way that you do something like a carbon filter. You do need to scrub them on a regular schedule to keep them clean, though.
Click here to see how you can get a Free Indoor Air Cleaner
You Want a Whole-House Solution
The unfortunate truth is that this is not the first time we've dealt with wildfires and the resulting smoke in our area. It certainly won't bet the last, either. If you are serious about avoiding the odors, the burning, watery eyes, and the respiratory issues related to smoke and its inhalation in your home, you want a whole-house air purifier. They're more effective than room units, they're much more convenient, and they're going to save you money over time.
However, they must also be professionally installed. When you're talking about air quality, you're really talking about your health. Our HVAC professionals can help you to protect your own health and that of your family. We may not be able to do much about the situations leading to these devastating wildfires, but we can and will do everything possible to help protect the comfort and the health of our valued customers. Reach out to discuss your air purifier options.
Schedule IAQ services with Fort Collins Heating & Air Conditioning. Big enough to serve, small enough to care.