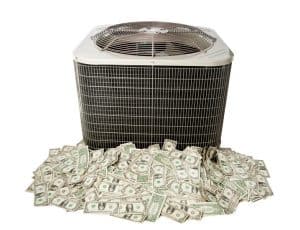 The heat pump is becoming a more and more popular option among homeowners in the market for new HVAC systems. It is not hard to understand why, considering heat pumps can function as effective air conditioners and also as highly efficient heating systems. What is a bit harder to understand for some users, however, is how this is even possible. The answer is that a heat pump is able to reverse its refrigeration cycle.
Because the refrigerant in these systems serves such an important purpose in both the heating and cooling process, it should be obvious that any issues with the refrigerant in the system are a serious problem. Refrigerant is not consumed by a heat pump, but rather operates in a closed loop and is just cycled through the system over and over. That means that low refrigerant levels indicate a leak, and that could spell big trouble for your heat pump in Loveland, CO.
How the Refrigerant Cycle Works
Refrigerant is such a great heat transfer fluid because it changes with ease from a liquid to a gas and back again. When cooling a home, refrigerant is evaporated in the indoor or evaporator coil. In a central AC this coil always performs this function, but heat pumps are able to flip the operation. As the refrigerant evaporates it absorbs heat from the air passing over the coil. Then it heads outdoors.
There, in the condenser coil, the refrigerant is condensed. This allows it to release its heat. The process is simply repeated over and over until the desired temperature is met. A heat pump can reverse the direction the refrigerant flows in, evaporating it outdoors and compressing it in order to heat a home. The warm refrigerant is then condensed in the indoor coil, which allows it to release its heat for use throughout the house.
Spotting Refrigerant Leaks
Have you noticed that your energy costs are starting to spike even though you haven't been using your system any more than is normal? Is it taking longer and longer for your heat pump to adjust temperatures to the desired level, causing it to work much harder than it should have to? Is your system running in short bursts, overheating and short cycling? If so, then you may well have a refrigerant leak.
You may actually be able to hear refrigerant escaping from your refrigerant lines, as the pressurized gas can cause a hissing sound as it escapes the system. In the winter, your heat pump may ice over if refrigerant is low as well, and you may simply not be comfortable in your home.
Forcing your heat pump to run with a low refrigerant charge does not just result in decreased comfort and increased usage costs. It can also result in irreparable damage to the compressor. In that event, you're likely going to be looking at a full replacement. If you suspect that you have a refrigerant leak, contact Fort Collins Heating & Air Conditioning right away.
Big enough to serve, small enough to care.