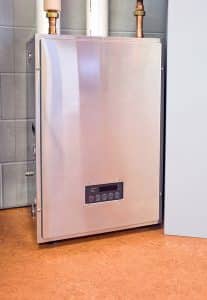 We know that water heaters may not be the most exciting investment in the world. A new family vehicle, for instance, might be something you'd anticipate more than a new water heater. That being said, the fact remains that your water heater is not going to last forever. You'll need to replace it at some point—but with what? Another system capable of heating water for use throughout your home, yes, but what kind of system?
If you're looking into your water heater options, then chances are that you've seen the two major one out there: tank and tankless systems. Today we'll be turning to our expert plumbers in Windsor, CO, to help you determine which water heater is right for your needs. First, we'll give you some background information on how these systems work, what sets them apart, and the pros and cons of each. Then, you simply need to contact us with any questions that you may have!
Eliminating Standby Energy Loss
This is really what it all comes down to. If your major interest in heating water is doing so as efficiently as possible, then it really is difficult to argue with a tankless water heater. Why? Because when you take the tank out of the equation, you also take the standby energy loss out of the equation.
Standby energy loss occurs when heat in the water heater by your water heater and stored in its tank transfers through that tank and into the air surrounding it. Heat is always going to move from hotter environments to cooler ones, remember.
When that happens, your water heater essentially winds up reheating water that it's already heated. It may not be starting from scratch with cold water brought in through the main water line, as it would if you drained your tank, but it really adds up over time.
So Tankless Is Better?
Sure, in some cases—just as tank water heaters are better in others. One thing that you'll notice is that tankless water heaters cost much more than tank models do. In the long run, they're worth it. They last substantially longer than tank models do, and the improved energy efficiency plus the long lifespan can spell long-term savings.
However, some people just don't want to spend the money up front, particularly if they're not going to be in their home for many years to reap the benefits. There is also the factor of just how much hot water you use, and how much you use all at once.
A tankless water heater doesn't heat water instantaneously, but it does do so on-demand. However, if you're trying to take a hot shower while also running the dishwasher and the washing machine, the tankless system may be overwhelmed in scenarios that a properly sized tank water heater could handle. You can use more than one tankless system if you have a very high capacity household, but again: cost.
It's a lot to think about, but we're here to answer any questions you may have.
Schedule your plumbing services with Fort Collins Heating & Air Conditioning.Big enough to serve, small enough to care.