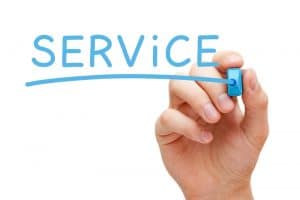 Has a contractor ever told you there's a way to unlock 100% AC reliability? Because you definitely shouldn't listen to that contractor. Modern air conditioners are very well designed and manufactured. They remain mechanical systems, though. And that means that problems will develop from time to time. So what's a homeowner to do? Just kick back and wait for that to happen?
Not exactly.
Just because you can't prevent every air conditioning problem doesn't mean that you shouldn't try to prevent as many as possible. How can you do that? Well, that's the focus of today's post! We're not giving you DIY AC service tips, because that's what our professional technicians are for. We do have some insights into how you can easily minimize AC repairs in Loveland, CO, though.
1. Change Your Air Filter
Okay, we said we weren't giving DIY tips here. But changing your air filter is the single best way you can contribute to your air conditioner's success on your own. The air filter in your air conditioner isn't there to boost indoor air quality. It's there to protect your air conditioning system itself. And, if you don't change it regularly, you are directly contributing to its lack of success.
These filters usually need to be changed every 1-3 months. That's much more frequently than annual maintenance (spoiler alert). If you don't change your filter enough, it can get clogged. When it gets clogged, it creates a lot of airflow resistance. And when that happens, the strain on the system can and will lead to operational problems eventually.
2. Always, Always Hire Trained Professionals
Want to know how even a great AC can struggle to succeed? If that great AC is not installed and serviced by qualified professionals. It sounds obvious, but trust us. There are a lot of overly confident tinkerers and DIY-enthusiasts out there. We've seen it before, and we'll see it again. A quality system from a great manufacturer, and in need of constant repairs.
This really starts right from the beginning. You need to know that your system is the right fit for your home. You need your duct system expertly designed to service that home. You need any repairs, when they are needed, to be done the right way. Cutting corners by working with amateurs is going to come back to bite you in the long run.
3. Maintenance. The End.
We cut right to the point on this one. If you don't schedule yearly maintenance for your air conditioning system, you are going to run into problems at a much higher rate than you should. Your air conditioner puts in a lot of work for you. You need to show it the care that it needs to keep it functioning as reliably and efficiently as possible.
We actually offer a comprehensive maintenance plan for just this reason. Check out our video on energy savings here. To say that routine maintenance is an absolute necessity is still an understatement. It protects your comfort, it protects your system, and it protects your investment.
Schedule your AC maintenance with Fort Collins Heating & Air Conditioning. Big enough to serve, small enough to care.