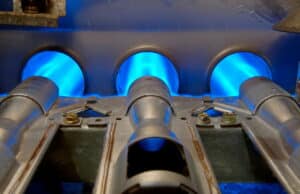 Whether you're hitting the slopes with the family, cross country skiing through the backcountry, or just making a snowman with the kids out back, there is a lot to love about winter in Colorado.
If you're not able to heat your home effectively, though, it's a lot tougher to keep your enthusiasm up.
That's why any necessary furnace repairs in Loveland, CO need to be handled promptly. You don't want to ignore a minor problem, only to have it cause serious issues down the road. You also don't want to be scheduling repairs that aren't actually needed, either. 
Today, we're going to talk about an alarming situation with a lot of potential causes—a furnace blowing cool air. The cause of the problem isn't always very serious, but it may be. That's why a professional diagnosis, and a bit of working knowledge, is so important!
#1 The Best-Case Scenario
Before you even pick up the phone to schedule furnace repairs with us, go ahead and check your thermostat.
We know, it sounds obvious. We're not accusing anyone of anything. But you definitely don't need us to fix this problem!
Is it possible that the thermostat was accidentally switched over to cooling? Do you have a fan-only mode that may be enabled? If so, that fan will continue running even when heat is not being generated.
Using a smart or programmable thermostat? Check the programs you've created, and make sure that they're still seasonally appropriate. If you can't find an obvious cause at the thermostat, there are other, more serious possibilities.
#2 Leaky Ductwork
Is the air cold coming out of the vents during extended fan cycles or when the fan first comes on? It is possible that you have leaky ductwork or that it may need to be insulated, and you'll need to have them professionally sealed or insulated to resolve the issue.
When ducts leak, heat escapes. Then, the air that has now cooled down is distributed throughout the house. Depending on where the leak is and how serious it is, you may only notice a specific area affected. However, it could be more pervasive. Professional inspection and testing of your ducts is the only way to determine for certain if this is the issue. Fortunately, we offer duct testing and sealing services to get things resolved the right way.
#3 Fan Limit Switch Malfunction
Your furnace has a number of different controls and features that help it to function effectively and safely. One of these is the fan limit switch. Basically, this switch tracks temperatures in your furnace plenum. If the air in the plenum gets too hot from a failed motor, restricted air flow or dirty filter it can cause the limit to fail. At least, that's how it's supposed to work.
If the limit switch malfunctions, the blower may run even when heat is not being generated (just like that fan-only mode), and you'll feel cool air coming from the vents as a result. A properly functioning limit switch ensures that the furnace will not overheat and if it does will normally reset itself. If it sticks open and fails to reset the furnace will not come on.
Schedule your furnace services with Fort Collins Heating & Air Conditioning. Big enough to serve, small enough to care.