Glenn started Fort Collins Heating & Air in May of 1996. He carries on the family tradition and continues the legacy of Fort Collins Sheet Metal Company that he bought from his grandfather that had been around since 1934.
Anthony transitioned out of the United States Marine Corps at the beginning of 2019 and is excited to be back at FCHA as our Assistant GM. He was an Aircraft Maintenance Officer from October 2014 through February 2019 and was an HVAC installer at Fort Collins Heating & Air Conditioning during the summers while he was in high school. Anthony loves to lead and mentor others and he enjoys finding ways to improve processes through Lean Six Sigma. In his free time, Anthony enjoys hiking, camping, snowboarding, spending time with his friends and family, and volunteering at his church.
Christie has been working in accounting and finance since 2000. She is originally from Phoenix, AZ, but worked for an automotive company in Fort Collins since 2014. Christie is known for her organizational skills and her attention to detail and enjoys being able to find solutions to challenges presented to her.
When she is not at work, Christie loves camping, fishing and riding her Side-by-Side. She also loves cooking and baking, especially cupcakes. Christie is passionate about helping foster kids and animals and even has fur babies of her own. She is a dog mom to two Boxers.
Administrative Office Manager
Sherri Pope joined the FCHA team after ten years owning her own event company along with previous experience in marketing. Sherri is known for her impeccable customer service skills as she is able to talk to anyone no matter the situation! She really enjoys hearing positive feedback from customers and coworkers where she knows she's making a difference.
While Sherri is not at work, she enjoys sports, spending time outside and with family. She also likes to volunteer for Columbine Health, Habitat for Humanity and a nonprofit baseball organization called Fort Collins Tigers.
Alex has been with Fort Collins Heating and Air Conditioning as a Quality Assurance Technician and now Service Manager since November of 2013. Alex has an extensive background in remodeling and retrofitting houses for more than 15 years with an emphasis on energy efficiency since 2009.
In his free time, Alex enjoys spending time with his family and hanging out at the lake.
Assistant Service Manager/Sales
Rudy has nearly 4 decades of experience in the Heating & Cooling Industry. During that time, has owned two separate HVAC businesses. Professionally, Rudy is known for everything HVACR. He is a leader, a trainer, an estimator, a salesman, a service technician, and installer and just a helping hand. He takes pride in doing every job professionally and is always seeking perfection.
When Rudy is not at work, he enjoys being with family, fishing, hiking, lifting weights and helping with his church. He especially enjoys his kids and grandkids.
Jon is our Retail Retrofit, Sales Manager and has been in the HVAC industry since 1986. He and Glenn Frank (owner) went to Tech school together in 1984. Jon has been with Fort Collins Heating and Air since 1998. Jon is passionate about helping people find the best solutions for their home, sharing his HVAC knowledge with customers.
In his spare time, Jon enjoys spending time with his family. His children are involved in sports. His hobbies include golfing and riding dirt bikes.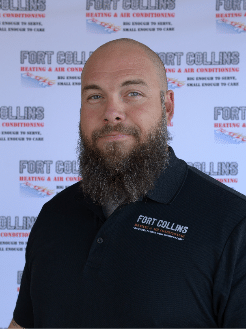 HVAC Installation Manager
Ryan has been in the HVAC industry for over 20 years. He landed at Fort Collins Heating and Air in 2007 when seeking a small company with integrity. Professionally, he is known for problem solving and a high level of organizational skill. In 2017 Ryan graduated with a Bachelor of Science degree in chemistry from the University of Northern Colorado.
When he's not working, he enjoys hunting, fishing (especially ice fishing!), international travel, weight lifting, and spending time with his wife Jane.
Jason is a master plumber with over three decades of experience in the plumbing industry. Jason is known for high quality and high integrity in the industry. He is passionate about working closely with his team and building relationships.
Outside of work, Jason enjoys hiking, working out, hunting small game and clay pigeon shooting. He also volunteers at his church and loves spending quality time with his wife. Jason is a native to Colorado and is a die-hard Broncos fan.
Rik came to Fort Collins Heating and Air Conditioning in 2014 and has worked in HVAC sheet metal fabrication since he was 12 years old. Rik has worked in all aspects of the trade, from small commercial to large industrial sized duct systems, specialized requirements and government projects. Outside of work, Rik enjoys playing music and mountain hiking.
Patrick brings over 15 years of HVAC experience to Fort Collins Heating & Air Conditioning. He is a certified rig welder in the oil and gas industry and has welded pipeline across the U.S. Patrick's career has involved HVAC installation and management, both commercial and residential.
When Patrick is not at work, he loves camping, riding his Harley, cooking, gardening, jeeping, and spending time in the mountains. Patrick lives on a cattle ranch and works there outside of his full-time job.
Before arriving at FCHA, Caroline had 2 years of experience in the HVAC World, but spent 24 years in various manufacturing jobs, with a focus on HR, administration, and payroll. Caroline wanted to relocate from Florida to be closer to her family, which led her to Fort Collins Heating & Air Conditioning. She is known professionally for her attention to detail, her organizational skills and streamlining processes to be more efficient. Caroline prides herself in keeping up with the latest technology.
When Caroline is not at work, she loves camping and enjoys the outdoor life that Colorado has to offer.