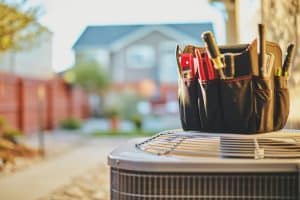 At the time of this writing, there is no air conditioner on the market that will start yelling out for help when trouble is brewing. That doesn't mean that the average homeowner has no way of knowing that their AC is struggling, though. If you pay attention to what your system is telling you, and know how it's communicating, then there are plenty of warning signs.
There is never a situation in which it will benefit you to put necessary air conditioning repairs on hold. The first sign of trouble should have you calling out to our air conditioning repair experts in Loveland.  But how do you know when this is necessary?
Today, we'll cover 3 ways in which your air conditioner may sound the alarm that all is not well. Keep these warning signs in mind, and don't hesitate to schedule service. A prompt, professional repair is your best bet against serious issues!
1. It's Grinding Its Gears—and Yours!
We cannot stress this enough. Your air conditioner should not be developing new sounds as it gets older. If you start hearing a strange new sound coming from your AC, that means that it is time to have that sound investigated. Don't write that new grinding, squealing, or clanking sound off as little more than a minor annoyance. That's how it begins, but that's not how it'll stay.
Strange sounds could be the result of anything from loose components, to insufficient lubrication, to electrical issues. The bottom line is that a professional diagnosis is the only appropriate course of action. Don't write something off, only to find out the hard way that it was more serious than you thought!
2. It's Costing You an Arm and a Leg
When things really heat up and you're running your air conditioner pretty much around the clock, it's easy to write off high energy bills. After all, that cooling doesn't come for free, right? Well,  that may be true—but don't get comfortable overpaying for your comfort!
Keep an eye on how much you're typically spending to cool your home, and definitely take note of any abnormal spikes. Again, there are a lot of different potential reasons why your system may see a drop in efficiency. You could be looking at anything from a dirty air filter (simple fix) to a refrigerant leak (the exact opposite of a simple fix). We'll figure out precisely what's going on.
3. It's Just Not Getting the Job Done
Well, that's pretty obvious. I'm not going to ignore my AC if it can't even cool my house down. We know that this sounds obvious, but trust us—we've gone on a lot of calls where homeowners admit that their ACs have been underperforming for some time before calling it in.
The point is that you don't want to wait for your air conditioner to break down entirely before you report the problem. You want to get out ahead of any problems, and that means that you want to contact us as soon as your AC starts to struggle.
Schedule your AC repairs with Fort Collins Heating & Air Conditioning. Big enough to serve, small enough to care.