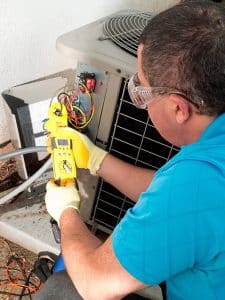 Once the warm weather finally arrives around here, we're all pretty ready for the change of pace. Winters in Colorado can be beautiful and there's certainly no shortage of outdoor winter sports opportunity around here. But eventually, enough is enough. Before long, though, you'll find the heat in your home is a bit much, and you'll turn to your air conditioning system for comfort once more. The best piece of advice we can give you to help your system succeed is to schedule routine air conditioning maintenance with our team.
But there is no such thing as a 100% reliable air conditioner. You can count on the need for air conditioning repair in Loveland, CO, at some point. When that time comes, you want to act fast. The longer you wait to schedule repairs with our team, the worse off your air conditioning system is likely to be. In today's post, we'll cover some issues you'll want to address even if it's the beginning of the season.
Short Cycling
Well, it's just been lying dormant all winter. Give it some time, it'll get back up to running speed soon. 
Do not give your short cycling air conditioner this benefit of the doubt! If you had your air conditioning system tuned up before you started using it again, then the most likely contributors to short cycling should have been addressed. Your refrigerant charge should have been checked, your air filter should have been changed, etc. If your system is still short cycling after routine maintenance, you could have an electrical issue or something else that either snuck by during your tune-up or which developed in the interim. Either way, you don't want to go into the cooling season with an air conditioner that won't run consistently.
Warm Air
This is something that you'll notice as soon as you start using your air conditioner, and it's definitely something that you want to address right away. If there is warm air coming from your vents and you just had your system tuned up, then there is a likely suspect that you don't want to wait on repairing: leaky ducts!
If your air ducts are leaking, then they need to be professionally sealed or, depending upon the extent of the issue, replaced. Your ducts are not going to be inspected as part of a regular tune-up. If they're pulling warm air into the system through leaks, though, you're going to be paying more money for less comfort in your home!
Strange Sounds
Eh, the system's cooling my house down. I can live with the weird noise. It's barely noticeable in most of the house.
Well, if that's your attitude, trust us, we'll be seeing you soon! It's definitely better to get out ahead of this particular problem. Depending upon the type of noise—screeching, whining, banging—you could be looking at anything from a worn-out belt to a loose motor mount. These problems won't cause an immediate disruption in cooling, but they can eventually—while also doing more damage to the system.
Schedule your AC repairs with Fort Collins Heating & Air Conditioning. Big enough to serve, small enough to care.