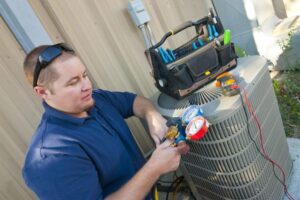 Okay, we will be the first to admit that today's topic is a bit of a downer. After all, things are just starting to warm back up after another cold, lingering winter season. Why jump straight to AC problems? Well, we aren't. And that's the point. Today, we're going to be talking about how you can help to avoid running into those problems. No, there are no guarantees that you'll never need repairs—quite the opposite, actually, as eventual repairs are a certainty.
That does not mean that you just have to wait around and invite them into your life, though! So keep the following tips in mind, and we'll help you to keep the need for AC repair in Loveland, CO at bay for as long as possible. An added benefit? These tips are not just going to minimize the risk of running into problems with your air conditioner. They'll actually help you to enjoy a better cooling experience as well.
1. Change Your Air Filter
Seriously, that's your advice? How does that prevent damage to my air conditioner? There is a common misconception regarding the standard air filters in HVAC systems that they are there to protect indoor air quality throughout the house. In truth, these filters are far too inefficient to do that. Their primary function is instead to protect your HVAC equipment itself.
When an air filter is too dirty, however, it creates a lot of airflow resistance. As a result, your HVAC system is going to wind up using more energy than it normally would in order to maintain comfortable temperatures throughout your home. In ACs and heat pumps, a dirty air filter can restrict airflow enough to lead to icing on the evaporator coil. The result? You pay more for a lesser cooling experience, while the wear and tear can cause the system to overheat and suffer operational damages.
2. Keep the Outdoor Unit Clean
Again, you may doubt the veracity of this claim. How exactly does a clean outdoor AC unit help to protect the system's overall condition? Well, think about this—those fins on that outdoor unit are there to help the system disperse heat into the air outside. If that ability is limited,  then the system is in trouble.
Issues like grass clippings and other yard waste adhering to the case of the unit, or even branches and leaves falling into the top of the unit, can definitely take a toll over time. Every now and then, particularly after a big storm or following up your yard work, do a quick visual check of this unit. It can really pay off in the long run.
3. Schedule Routine Maintenance
Okay, if you did not see this one coming then chances are that you're not a regular reader of our blog. We're always advocating for routine AC maintenance. Why? Because it truly is the most effective means to protect your air conditioning system. It allows our technicians to address any existing problems, discover developing ones, and make sure your system is in the excellent condition necessary to excel in its overall performance.
Fort Collins Heating & Air Conditioning. Big enough to serve, small enough to care.