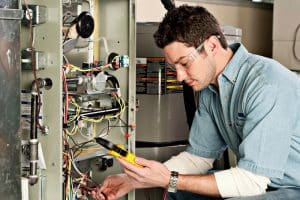 This is a tricky time of the year for homeowners looking to protect their comfort. We'll get a sprinkling of chilly days and nights tossed into the mix, then temperatures will jump right back up to the mid/high 80s before you know it. Seeing those temperatures in the forecast may lead you to believe that it's too early to really start thinking about your home heating system. This really couldn't be further from the truth, though.
Sure, you may not be ready to flip over to your heater just yet. However, the time for home heating in Fort Collins, CO, is just around the corner. And that can sneak up on you in a bad way if your heater is not ready to jump right back into action. So keep the following in mind, and remember that our technicians are never more than a phone call away. Whatever heating services you may need, we're here to do the job right.
How Old Is Your System?
Age is a very important factor to consider when it comes to your heating system. Now, does an older system mean that you definitely need to replace it before winter hits? No. Nor does a newer system mean that you definitely don't need to replace it before the heating season arrives. But age will definitely play a factor in your decision-making process regarding what's best for your heating needs.
If, for example, you've got a problem that can be resolved with repairs, but the repair is pretty pricey, you should be asking yourself if the system is still worth repairing. If it's getting older, frequently has issues like this come up, and/or is no longer covered under warranty, then a replacement probably looks pretty good. If the system is still new enough for the repair to be covered and is otherwise in good working order, then replacement probably won't be the way to go.
How Satisfied Are You with Your System?
For some, the idea of replacing a working heater with a new, different model is just crazy. We assure you, it's not. Different heaters work in different ways, and if there was any one heater that suited every single homeowner, well—there wouldn't be so many different types of heaters out there! So yes, dissatisfaction with your heater based on how it heats your home is a valid reason for replacement.
Maybe you're drawn to the efficiency of a heat pump, but have a furnace in place. Maybe you've got a heat pump, but it's the ductless mini split that's really got your attention. Whatever the case,  our team is happy to discuss your options with you to ensure that you not only have a good, reliable heater, but that you have the right heater for your personal user preferences.
How's Overall Efficiency?
Your heater is working just fine. But it's costing a lot to heat your home? Then it's not working just fine!
Investing in efficiency from the start is a worthwhile pursuit. But you also need to be diligent in scheduling routine heating maintenance if you want to maintain that efficiency. And, if your system just cannot deliver the efficiency you're looking for, then it may be time to start looking for a replacement.
Schedule your heating services with Fort Collins Heating & Air Conditioning. Big enough to serve, small enough to care.