Winters in Colorado are not to be trifled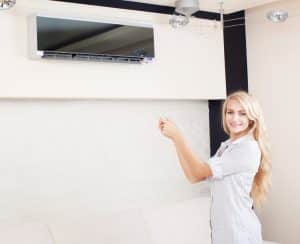 with. When temperatures drop and the days grow shorter, your best ally is a great heating system. Hopefully, you've got one installed in your home already, and it is ready to go at a moment's notice. Or, more realistically at this point, it is ready to run and run and run for the foreseeable future. Of course, it is entirely possible you'll need to replace your heater unexpectedly or that you are simply planning ahead for a heating replacement in the spring.
Whatever the case may be, we encourage you to weigh your options carefully so you wind up with the perfect heating system for your needs. Just because you've always used the same type of heater does not mean you have to continue using the same type of heater, after all. A ductless heating system may be what you've always wanted, even if you were not aware of it until now!
Why Skip the Ductwork?
There are a few reasons why you may want to forgo the use of ductwork when heating your home.
First of all, you may not have ductwork previously installed. Maybe you had an old boiler that used a radiant heating system or baseboards to heat your home. Those systems are great, but you may want to take advantage of forced air heating instead. Rather than install new ductwork in an existing property, you can retrofit your home with a ductless mini split with much less hassle.
Alternatively, you may want to avoid the use of ductwork in order to also avoid the inefficiency and air quality issues that can stem from leaky ductwork. Ideally, your ductwork would be expertly installed and then never run into any issues. Even if your ductwork is installed and designed properly every step of the way, however, chances are an issue will develop eventually. That's just the reality that we live in.
There Are Many Other Benefits to Consider
The major one being that, when you heat your home with a ductless mini split, you're using a heat pump. Like other heat pumps, ductless systems do not generate new heat in order to heat your home. Instead, they use the refrigerant cycle to exploit the heat transfer principle. This is a fancy way of saying your system will use existing heat in the air outside in order to heat your home with great energy efficiency.
In the summer, the ductless mini split evaporates refrigerant in the indoor coils in order to remove heat from the air in your home. That's what makes your home cooler. In the winter, refrigerant evaporates in the outdoor coil. That refrigerant absorbs heat from the air outside and is then compressed to boost its thermal energy. After traveling indoors, the refrigerant is condensed and the heat it releases is used to heat your home. Because the ductless blowers are all controlled independently of one another, you can also easily maintain different temperatures in different areas of your home, further boosting efficiency while living more comfortably!
Schedule your HVAC services in Loveland, CO with 
Fort Collins Heating & Air Conditioning. Big enough to serve, small enough to care.