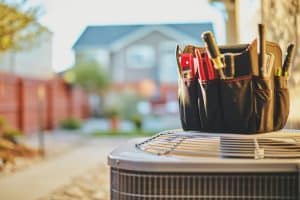 When summer arrives, the temperature really begins to put your air conditioner to the test. This is the time of year where you start to realize that your air conditioner is nothing short of essential. It really wouldn't be easy to get through the hottest of summer days without your air conditioner by your side.
If you've started to notice that your air conditioner is acting weird, but you're not sure if you actually need AC care, then this is the right blog for you. We're going to help you determine your needs today. We can handle your air conditioning repair in Loveland, CO.
Call After You Notice This
These are the signs that you need to call a professional for air conditioning care.
1.      Warm Air
Have you noticed warm air in your home? This is bad news. You're going to overwork your system trying to compensate for this issue. Efficiency is what you deserve and repair service can help you get it.
2.      Weird Noises
There are quite a few troubling sounds that you can hear coming from your air conditioner. The problem comes from any air conditioning sound that you hear that's new, unfamiliar, or too loud. If this is a problem that you're dealing with it's also a great idea to get in touch with our team members sooner than later. Don't let the problem develop into a huge issue.
3.      Thermostat Issues
Your thermostat should always display an accurate temperature in your home. If it doesn't, then you need to get thermostat services from our professionals.
Another aspect of this is the status of your thermostat. If you don't have a Wi-Fi or smart thermostat, then you're behind the curve. This isn't just about keeping up with the Joneses either—it's about your efficiency. Don't sacrifice the quality of your system just because you think you're satisfied with what you have. We promise you there's better out there.
4.      High Energy Bills
Have you noticed that your energy bills are rising out of nowhere?
High energy bills are never a good sign if you're not doing anything out of the ordinary. If this summer is typical of how you'd run your air conditioner any other summer, then the problem is bigger than your habits. The beast you're battling is inefficiency. If you try to brush this problem off, you're going to notice your air conditioning system performance decrease in quality over time. It's best to handle the issue now.
5.      Humidity Issues
We have humid summers here in Loveland. This is why humidity issues are important. If you're noticing an absence of moisture in your home or an excess amount of moisture, then you need to get yourself some air conditioning care.
Even if your humidity issues don't seem like they're going to be the end of a comfortable summer, they're definitely something that indicates a bad omen. Humidity issues are a clear sign that you should get care from a professional.
Contact Fort Collins Heating & Air Conditioning for your air conditioning repair needs. We're big enough to serve, but small enough to care.