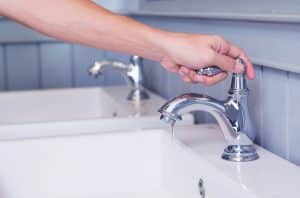 Your home's plumbing is one of the most important functional aspects of your home. There's little way around this reality. No one understands the importance of plumbing better than our team members. We make sure that each one of our technicians is educated enough to help you with everything you need.
If you're looking for someone to handle your kitchen plumbing, gas piping, or even drain cleaning in Loveland, CO, then you can count on the professionals here. We're going to give you a crash course in everything we do today. If you'd like more detail or like to talk about these services concerning your home specifically, then we're available to help you. 
What We Do
We pride ourselves on the range of our plumbing services. Here are a few things that we do.
Plumbing Repair
Sometimes things are going to go awry with your plumbing system. It's bound to happen. Your plumbing system is vast, you rely on it daily, and it's typically in your home for a considerable amount of time. If you notice that you're springing leaks or running into other plumbing issues, then we suggest that you start here.
Bathroom Plumbing
Your bathroom might not be the most glamorous part of your home, but it is a vital area. This is why you should have impeccable plumbing here. We're here to assist with everything you need including cosmetic upgrades, clog removals, or other services.
Kitchen Plumbing
Your kitchen plumbing is going to need care as well. We're here to provide plumbing for everything in this space.
Gas Piping
Gas piping is something that you always want to leave to a professional. We can handle it for you. We know how to safely install pipes for you.
New Construction Plumbing
We know that the brand-new installation of a plumbing system might feel a little intimidating. We can make sure that your new construction plumbing is as accessible as possible for you.
Repiping
It's important for you to repipe your entire home when it's necessary. We can help you determine when this is and help you transition from your current piping system to a brand new one.
Sump Pumps
A sump pump is the best thing you can have in your home to protect it. Having a sump pump in your home is a preventative measure. If you don't have a good one backed by quality service, then you're not really protecting your home. We want to help get you the right work. Get in contact with us for what you need.
Drain Cleaning
Have you ever noticed that your drains start to move slowly over time? Maybe you're also battling issues with unpleasant scents and other drain-related issues. If these are issues that you're facing, then we want to help you bypass them. Drain cleaning is the best way to do this. Make sure that you get a qualified plumber on your team to perform the work.
Fort Collins Heating & Air Conditioning is the company you can trust for your home's plumbing services. We're big enough to serve but small enough to care.