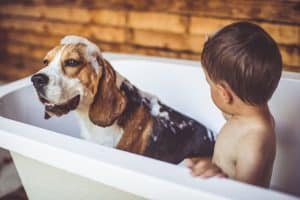 What's the number one problem that homeowners may encounter with their plumbing system? Leaks, right? We bet you said leaks. It makes sense. After all, there are a lot of pipes in your plumbing system, and the unfortunate truth is that there is just no way to completely eliminate the risk of leaks in any one of them! The good news is that, while we can't promise you'll never run into leaks in your system—in fact, we can pretty much guarantee that you will!—we can help find them fast.
That's because we offer video pipe inspection services. This is the single best way to pinpoint and diagnose leaks in your plumbing in Loveland, CO. If you have any concerns about potential leaks in your plumbing system, then be sure to call a member of our team. We'll put our expertise and our technology to work for you. That way, you won't have to worry about the serious problems that plumbing leaks can lead to when given the time.
What Is Video Pipe Inspection, and How Does It Work?
A video pipe inspection entails, well, using video equipment to inspect your pipe. Sounds simple, but it's a bit more complicated than you may realize. We're not just going to train a camcorder or phone camera on an active leak, show you the footage, and say "Well, there's your problem." No, video pipe inspection equipment actually allows us to peer directly into your pipes, finding and diagnosing problems from within.
Think of it like a drain snake but with a tiny camera on the end. The camera is affixed to a flexible rod that we feed directly into your pipes. This may be done through a drain or through an access point, depending upon the type of pipe we're dealing with. Regardless, we feed that rod and camera in, and a live video feed is sent back to a monitor that we, well, monitor—that's where the name comes from!
But What's the Benefit?
Not all leaks are going to give you a clear source. Even if you see water pooling in an area of your home, for instance, the leak itself could be a long way off. That pool of water may simply be in the lowest point of the home, with water naturally following gravity's pull to wind up there. It's also not all about leaks.
In some cases, you may have a doozy of a clog in your drains or in your sewer line. You may have those drains or that sewer line cleaned. But how do you know that the service was effective? How do you know that there's only one clog to deal with? It's a lot easier when you've got the footage to review and you can actually see the clog and its location.
Plus, it helps with diagnostics. You know that you can trust us, but it's also really great to be able to show you precisely what we're talking about when we're discussing your next steps. It's not really so much a matter of proving we're being honest—it's to help you understand the potential severity of any given situation.
Schedule your video pipe inspection services with Fort Collins Heating & Air Conditioning. Big enough to serve, small enough to care.