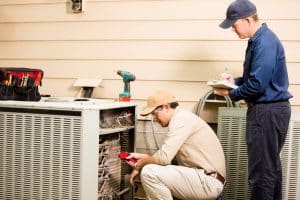 In our previous blog post, we filled you in about the R-22 phaseout that is looming on the very near horizon. Check that out here if you haven't already (or if you're just ready for a refresher before today's post). This phaseout obviously has implications for homeowners thinking about repairing old air conditioners, whether it makes more sense to just replace now, etc. Our focus today is why you shouldn't view a potential air conditioning replacement as a burden.
Giving your air conditioning in Loveland, CO, a fresh start is a great way to reap a number of different benefits. Of course, your overall satisfaction with your new air conditioning system is going to depend largely on the quality of the air conditioning replacement itself. Even a great air conditioner can come up short if it is not installed by skilled, trained professionals.  That is why you want to work with the technicians on our team, every step of the way.
Improve Your Overall Comfort
My air conditioner may be old, but hey—it's still getting the job done. We hear this a lot, and we know that there are plenty of old ACs out there still doing their thing. The question is—how well are they doing it?
It's something that we all fall into. My car still gets me from point A to point B. My computer still boots up. I have to brew a pot of coffee while I wait for it to finish, but it happens eventually. And my AC takes a little longer to cool the house down, but I've got the time. What many homeowners are surprised to discover once they have replaced their ACs is just how much better the new system performs. If the phaseout has you thinking about a replacement, it's worth considering the better cooling experience you're likely to enjoy.
Take Advantage of New Technology…
Inverter air conditioners. Heat pumps. Ductless cooling. Smart thermostats. I don't need all the hokey gimmicks, you may be thinking, I just want to cool my home! We understand your hesitance, but we're not talking about shelling out a thousand bucks for a new phone that has 1 megapixel more than your model from last year does. We're talking about real advancements in technology that help today's air conditioners to function at higher levels than ever before.
Does this mean that you can't opt for a relatively bare-bones AC replacement? Of course not. It does mean that you can view your replacement as an opportunity to improve on what came before, though. You can customize your comfort with more versatile equipment without straying off into the realm of gimmickry when you take the time to explore your AC replacement options.
..and the Efficiency It Brings
If you want to pay less for more comfort, and we don't know why you wouldn't, then there is no getting around the fact that upgrading your old air conditioning system is the most effective way to go. Yes, it may be a pretty major expense upfront. When you consider the returns you'll be getting on that investment for years to come, though, it's clear to see that this boost in energy efficiency is well worth the initial price tag.
Schedule your AC replacement with Fort Collins Heating & Air Conditioning. Big enough to serve, small enough to care.