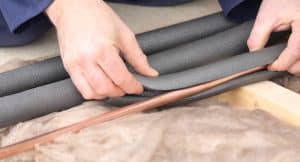 When you think of the different problems that may develop with your plumbing system, you may think of a subpar water heating performance or a backed-up toilet. What you may not think of, at least not until it happens, is the freezing of your pipes. Unfortunately, Colorado is more than cold enough to make this a real possibility. The last thing you want after an exciting day on the slopes is to come home to your own personal skating rink.
We've got a few tips from our plumbers in Loveland, CO, that will help you to avoid frozen plumbing pipes in your home. Just remember that, while prevention is key, there is no way to guarantee that you'll never run into this problem in your home. If you notice any signs at all of frozen pipes, or if you're unsure of what you can do to prevent this issue even after reading today's post, then let us know right away.
Maintain Airflow Around Your Pipes
If you look around your home, you are probably not going to see pipes running through your living space. If you do have pipes running along your living room ceiling, at the base of your bedroom walls, etc., well,  you may want to find a new contractor! Because so much of your plumbing system is hidden away from view, there is a very good chance that much of your piping is tucked away in unheated areas of the house.
This might mean under cabinetry, behind drawers, etc. By opening up your cabinet doors and drawers in order to let heated air from your home pass over and around those pipes, you may be able to prevent them from freezing up. It may look a bit odd to have those doors and drawers open, but it sure beats the alternative.
Insulate Your Pipes Well
There are very few plumbing services that we advise homeowners to handle on their own, but insulating your pipes is so simple that you can actually handle it yourself if you feel up to the task. Pipe insulation is very cheap, very easy to use, and can definitely prevent frozen pipes in most circumstances.
Not all of your pipes are exposed, of course, but those that are should be wrapped up in insulation. Not only can this help to prevent pipes from freezing up and bursting, but it can also help to boost efficiency as well. Wrapping hot water pipes in insulation keeps heat in the water from going to waste.
The Trickle Trick
It's not a trick on you—it's a trick on winter temperatures trying to devastate your plumbing system!
When you run a trickle of water through your plumbing system on those very frigid nights, you're allowing just enough water to move through them to prevent the freezing of still water left in the pipes when they're not in use. Don't think of it as wasting water. Think of it as using water to prevent wasting a lot more!
Schedule your plumbing services withFort Collins Heating & Air Conditioning. Big enough to serve, small enough to care.