There are a number of issues that can lead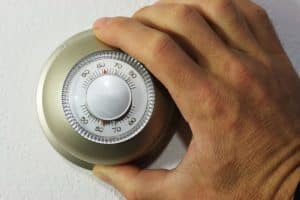 to a subpar performance with an air conditioning system. Many of these issues are beyond the homeowner's control, will arise unexpectedly, and will require professional intervention to resolve. In some cases, though, an outdated piece of equipment is simply holding the AC back from its full potential. This is the case if you are using a thermostat that is something of a relic from time past. You'll need a professional to replace your thermostat in Loveland, CO, but it is a simple upgrade that can have very big benefits.
One word of caution–don't just find the fanciest, most well-reviewed thermostat that you can online, order it, and then expect your technician to install it for you. You need to know for sure that your thermostat is the right fit for your system, and that your AC is capable of integrating with that control. If you really want to upgrade your thermostat to the newest technology and have an old AC in place, then a full air conditioning replacement may be a better option to consider.
Is My Thermostat Really That Big a Player?
Absolutely, yes. Don't let this HVAC system component's size fool you. Diminutive though it may be when compared to, say, your condenser unit, the thermostat that you use in your home is literally the conduit through which you are able to control the system at large. It's importance is impossible to overstate, and any issues with your thermostat are going to have serious implications for the overall efficiency and performance quality with which your air conditioner operates.
Why Upgrade, Though? My Thermostat Is Working Fine
That may be true, but is "fine" all that you hope for when it comes to your AC system? During the most intense heat of summer, we think that our clients deserve more than "fine." The first instance in which a thermostat upgrade should be considered is if you find yourself using an old dial or slide thermostat.
These thermostats, such as the round model pictured, are difficult to control accurately. You may not be setting the temperature as precisely as you'd like to, and that can lead to increased cooling costs. Upgrading to a digital thermostat is a small step toward much more accurate temperature settings.
While opting for even the most basic digital thermostat is a good starting point, we strongly urge you to at least consider a programmable thermostat. With a programmable thermostat, you'll be able to set cooling–and heating–programs based around your own personal schedule. In doing so, you can keep cooling costs in line without having to come home to an uncomfortably warm living space at the end of the work day.
More advanced models, such as smart thermostats, are definitely worth considering. However, it is vital you hire a professional to ensure your system is compatible with such a thermostat. If so, using a smart thermostat will allow you to control your system remotely, as well as to view energy reports that can help you to make the changes you need to in order to cut energy costs even further.
Schedule your AC services with Fort Collins Heating & Air Conditioning. Big enough to serve, small enough to care.