Your air conditioner is making a weird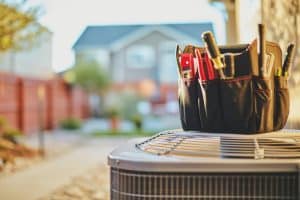 sound. Or it is starting and stopping too frequently. Or maybe it's blowing warmer air than usual, or costing more to run. Whatever the case, there's a problem of some kind affecting system performance.
But hey, we're almost at the end of the 2018 cooling season. Why not just wait until the summer begins anew to have the air conditioner repaired?
Well, as it turns out, there are a whole lot of reasons.
And yes, we're going to share a few of them.
First, however, an executive summary of what is to follow …
It is always best to schedule immediate AC repair in Loveland, CO.
If you ask us, no problem with your air conditioning system is ever truly "minor" enough to ignore. The sooner that you stop thinking of problems like that, the better off your air conditioning system.
Start Saving Money Immediately
The whole "well, my air conditioner is still working pretty well" argument really drives us nuts. Why? Because a good enough performance is not good enough, and for a few reasons.  Chief among them is the fact that we hate thinking of our customers paying too much for too little comfort. That is just what you'll be doing if you fail to schedule your air conditioning repairs promptly, though.
Whatever the other effects that your problem has on your air conditioner may be, you can definitely count on energy efficiency suffering. It may not add up to too much right away, but even a little bit of unnecessary cost is too much for our valued customers. When we repair your system promptly, your budget reaps the benefits as well as your comfort!
Prevent Further Damage
If you sprain your ankle a mile from the marathon finish line, you may decide you've come too far to give up. It's not as if you can have a doctor come out to the race and patch you up. If you do manage to finish, of course, you're really going to feel it for a while to come.
When it comes to your AC finishing a marathon of cooling a home all summer, there's no reason to force it across the finish line. You can easily have a technician come tend to its pain points. Scheduling prompt repairs helps limit further damages to the system.
For the Sake of Convenience
Let's pose a question—how certain are you that you'll remember to schedule your AC repairs before you actually need to use your system next year?
If your answer is "not very," then have the job done now! The last thing you want is for summer to strike harder and earlier than expected when your air conditioning system isn't prepared for it. If you get the necessary repairs out of the way now, you won't find yourself scrambling to schedule service during our busiest time of the season.