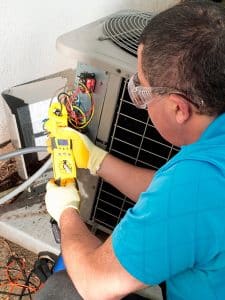 If you navigate around this site a bit or read through some of our previous blogs, then you will notice very quickly that we are strong advocates of annual air conditioning maintenance. Yes, annual. Yes, every single year. Why? Because there is just no better way to keep your AC working like new, without investing in a new air conditioner every year! When a professional tunes up your system annually, you will enjoy a great cooling experience.
We cannot stress that last bit enough. Anything worth doing is worth doing right. An AC tune-up is definitely worth doing, and only by scheduling this service with trained professionals can you hope for it to be done right. If you think you can read a few blog posts or watch an instructional video in order to learn how you can tune up your AC yourself, think again! This is definitely a job for air conditioning professionals in Loveland, CO.
A Waste of Money? Quite the Opposite!
It's an argument many have made—many of whom have learned the hard way that routine AC maintenance is definitely worth the minor cost of the service! My air conditioner is fine—if it's not broken, why fix it? There is a fundamental flaw in this logic, that flaw being that AC maintenance is not about fixing problems, but rather preventing those problems from developing in the first place.
This should be obvious, with the service being called "preventive maintenance" and all that, but some people still fail to see the connection. No, there is no way to completely eliminate the risk of running into operational problems with your air conditioning system from time to time. When your system is kept in the best working condition possible, though, it is far less likely to run into such problems. That saves you money on repair costs and even a premature replacement.
You Do Want to Live Comfortably, Right?
If so, then you are definitely going to want to schedule routine air conditioning maintenance. There is a major difference between an air conditioning system that starts up when you need it and one that actually excels in its operation. If good enough is good enough for you, that's fine. If you're serious about living comfortably, however, you need more than a good performance.
You need a great one, and that is what routine air conditioning maintenance allows for. Only when every component of your air conditioning system is pulling its weight, from motors to fan belts and everything in between, can your system truly function at peak performance levels. Do not allow "minor" issues to cause very real problems very shortly down the road. Instead, work with our team to keep your system working properly!
With annual air conditioning maintenance, you discover problems early on so that immediate interventions can be made. You can help to extend the life of your system. You boost energy efficiency so that you can actually pay less for greater comfort. If all of this sounds good to you, and we cannot imagine why it wouldn't, check out our maintenance program today.
Fort Collins Heating & Air Conditioning is big enough to serve, small enough to care.