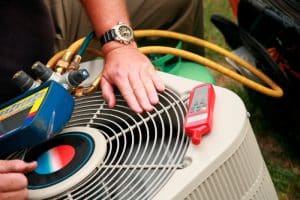 Summer has been great outside. You've spent a lot of time poolside, you enjoyed the fireworks, and you're even planning a great vacation… but when you're at home it's a different story. Things are a little strained at home because your air conditioner is underperforming. You're hot, frustrated, and you've finally started to ask yourself the question… "what's going on?"
This is the first step in finding the relief that you're looking for. Let's investigate why your air conditioner might be struggling to perform today. We specialize in air conditioning in Fort Collins, CO. Let's get started with figuring out what's wrong today.
What's Going On?
This might be what's going on with your air conditioning system?
Something Is Wrong With Your Thermostat
Your thermostat might not be the best for your air conditioning system. Your air conditioner needs a high-quality thermostat system to make sure that everything is on track. Digital thermostats are a great option, but they're not really cutting it anymore when you're trying to improve your efficiency and performance.
We suggest that you bump things up to a Wi-Fi or smart thermostat. If you don't know where to start, take this as a sign to start with our team. We're going to have you start with the basics. We want you to figure out all the determining factors that decide your comfort needs. These factors are things like the size of your home, the shape, windows, the amount of people in your home, and more.
Your Air Filter Is Clogged
If you don't replace your air filter often, your filter can become clogged. Your filter can build up with dust and debris over time. You'll notice increased amounts of dust and particles floating through the air when this is the case. This is why it's so important to change your clogged filter once every three months.
You're Experiencing Short-Cycling
Have you noticed that your air conditioner has started short-cycling?
Short-cycling is when your air conditioner starts, runs for a short period of time, stops, and then starts again. This is something that you might think is benign, but it's absolutely something that you should address with a professional. It's terrible for your air conditioning system. It negatively impacts the efficiency and can cost you more.
You Need a New Air Conditioner
Sometimes, your air conditioner is just on its last leg, and you need a new one. We want you to know that this is okay. The process of finding yourself a new air conditioner doesn't have to be difficult. We want you to know that you have resources from our team members.
We know how to assess your current comfort, help you determine your needs, find yourself a new air conditioner, and even help you finance it. If you need a new air conditioner then we want to be here to help you with the process.
Contact Fort Collins Heating & Air Conditioning today to schedule an appointment with us. We're big enough to serve, small enough to care.