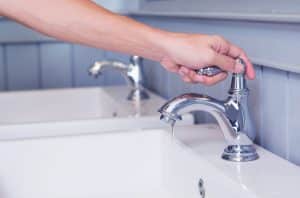 Running water in your home is not something you should ever take for granted. Yes, of course, indoor plumbing is standard in homes throughout the country. Just because something is so common, though, doesn't mean that you can take it for granted. Nor does it mean that you should settle for a subpar performance from such systems in your home. If you've got low water pressure in your house, then you've got a problem that must be dealt with.
If you encounter low water pressure in your home, then it is time to schedule service with a professional plumber in Loveland, CO. We cannot stress this enough. Not just anyone has the tools, training, and experience necessary to ensure the job is done right. Don't get suckered into DIY service attempts just because an instructional online video gave you an undeserved boost of confidence. Reach out to a member of our team to get your water pressure back up.
It Could Be Your Water Main
This is something of a worst case scenario, but it is a topic we definitely need to cover. If you've lost water pressure throughout your entire home, then a leak in your water main could definitely be to blame. Now, a water main leak is not the cause of every instance of water pressure loss, and every water main leak may not actually result in water pressure loss. So what else should you look out for?
Keep an eye out for discolored water, which could be the result of sediment making its way into a damaged water line. You might also notice wet patches in your yard, where the line is leaking. If you have a leaking main line, then it must be repaired or replaced as soon as possible to avoid serious damage to your property.
It May Be a Localized Issue
No instance of lost water pressure is something to celebrate. But lost water pressure in one particular area of the home or to just one fixture is probably going to be a bit less intimidating than low water pressure throughout the entire house. If you run into this issue, it is likely that you've just got a leak in a single supply line servicing that area or fixture.
This isn't to say that the problem isn't serious. Remember, that water is going to wind up somewhere, and your home does not have to flood in order for serious damage to be done. If you have any reason at all to suspect a leak, be it related to water pressure or otherwise, have a plumber investigate promptly.
It Might Even Be an Issue with the Source
If you get your water from the municipal supply, then a problem with the delivery system could be to blame. You might want to contact your city or township, or at least touch base with your neighbors, to see if the problem is exclusive to your home. If you seem to struggle with water pressure regularly, and you use a water well, then a well pump replacement may be required.
Schedule your plumbing services with Fort Collins Heating & Air Conditioning, the company you can trust.