Oh man, I'm not ready to start thinking about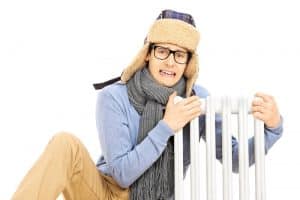 winter yet. Come on, the heat of the summer months is still burning off! Why do you have to be like this! 
Because, sometimes, the truth hurts.
Look, we understand the thought of winter doesn't appeal to all of you out there. And even those of us that love to hit the slopes will admit that,  sometimes, the cold can get to be a little much. But that's the entire point!
Scheduling heating maintenance now means less hassle then, when you really need your heating system the most. By putting your heating in Loveland, CO in our hands, you can rest assured in knowing that some of the finest technicians out there are looking out for your comfort when the heating season arrives. Just remember that heating tune-ups cannot be completed by anyone other than skilled, trained professionals. So call today, and read on to learn more about what heating maintenance has to offer.
Why Hire Professionals?
To keep warranties intact, first of all. To protect your equipment. To protect yourself. Pretty much any reason you can think of. Are we saying there is nothing you can do to help maintain your heating system. No. You can change your air filter regularly. You can keep the ducts unobstructed. You can clear snow away from the outdoor unit of heat pumps. But you cannot crack open the heater and try to complete a thorough tune-up.
This type of job is much, much more complicated than many homeowners seem to realize. You need to clean electrical contacts, test voltage, tighten connections, lubricate all moving parts, replace worn components, test relays and controls, and so much more. It is a job that only trained, experienced professionals can handle, and any damages caused by DIY service attempts are only going to leave you on the hook for the resulting repair costs.
Why Do It At All?
Because there is no better way to keep your heater up and running reliably. Your heating system, regardless of type or make/model, incurs a lot of wear and tear over the course of the heating season. Left unaddressed, this wear and tear is going to make your heating system much more susceptible to problems and, eventually, breakdowns.
Of course, you don't just get a more reliable heating experience by scheduling routine maintenance. You can also pay less for a better heating experience! How? Because a properly maintained heating system is the only type of heater that is going to function at peak efficiency levels. The only thing worse than failing to heat your home effectively and reliably is overpaying for such a lousy experience. When you remain diligent about scheduling routine heating maintenance each year, you won't have to worry about such problems. It won't increase the heater's overall efficiency rating, but it will keep it working as close to its peak efficiency as possible.
Schedule your heating services with 
Fort Collins Heating & Air Conditioning. 

Big enough to serve, small enough to care.