Commercial property owners in our area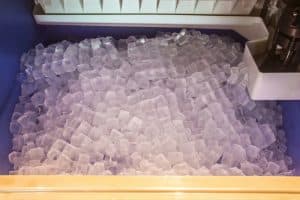 know that they can turn to our team for great commercial refrigeration services in Timnath, CO. We are now proud to announce that we are also an authorized Manitowoc Dealer. We install and service ice machines and soda machines from this manufacturer, and we are proud to do so. They make some of the finest products on the market, and their dedication to excellence matches our own. It is important to remember, however, that even the best commercial refrigeration equipment on the market can run into trouble from time to time.
If and when you do run into issues with your commercial ice machine, keep the following information in mind. In some cases, you may be able to troubleshoot the issue on your own. In other instances, professional commercial refrigeration services will be necessary. If this is the case, you can always count on our technicians for a job well done.
Problems That You May Encounter
It will probably come as no surprise to hear this, but many of the problems that commonly affect ice machines have to do with the water the system uses. It may also have to do with the delivery system for that water. If water isn't reaching the machine properly, or if there are issues with water quality, you can expect problems to develop.
Water is leaking into the machine. When you scoop ice out of your ice machine, is it a watery mess? If so, you may have a leak that is funneling water directly into the bin. This could happen if there is a leaky valve or loose connection.
Are your cubes too small, or of an uneven size? Does it seem like you generally don't have a full supply of ice at the ready? This could be an issue with low water flow. You could have a blockage in your water line, or a leak somewhere in that line before it reaches the machine.
Is your system shutting down frequently or overheating? Where is it stored? If the air surrounding the system is too warm, then you may run into such operational problems. If this is the case, cooling that area or moving the ice machine may be necessary in order to resolve the problem.
Is your ice cloudy? Does it have a foul odor or a strange taste? You can try emptying out the system and cleaning the bin if so. However, if this does not resolve the problem, you may have an issue with the water quality on your property. A water treatment system may be needed.
Are there flecks or spots of discoloration in the ice? If so, you probably need to be more vigilant in changing the filter of your ice machine. These systems are straightforward in their operation, but they do need some basic maintenance completed regularly.
Is your system shutting down before filling the bin? Is it making strange sounds? You could have any number of issues with your compressor, or even a refrigerant leak. Such problems must be diagnosed and resolved by trained professionals.
Let Fort Collins Heating & Air Conditioning handle all of your ice and soda machine service needs. Big enough to serve, small enough to care.