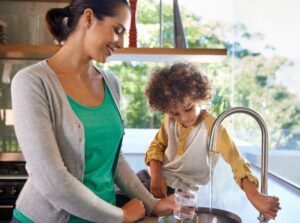 The two heavy hitters when it comes to your homes plumbing are bathroom plumbing and kitchen plumbing. Today, we're going to focus on the heart of the home—your kitchen!
Your kitchen plumbing is important for the health and functionality of your home. You shouldn't discount the importance of something like this. If you need a good plumber in Loveland, CO, then we're here to help you with what you need. We've got a few tips for your kitchen plumbing today, but we always have quality service for you as well.
A Few Things You Can Do
Here are a few things you can do to help your home's kitchen plumbing:
1.      Avoid FOG at All Costs
"FOG" stands for fat, oil, and grease. FOG is something that you never want to go down the drain. This is because FOG might slip down your drain as a liquid, but with a little time, FOG will settle and become sludge.
This sludge is a problem. It becomes a breeding ground for further clogs. Make sure that you take a moment to put these substances in the trash can rather than down the drain. Your garbage disposal can't handle these types of substances. Sparing your drain of these substances will save you time and money.
2.      Know What Can Go
FOG isn't the only thing you should avoid when it comes to your kitchen sink. You should invest in a drain strainer for your kitchen sink. Seeds, pits, and pithy food products can all be a problem for your drain. Knowing what to avoid will save you from a plumbing problem in the future.
3.      Don't Go For Chemical Drain Cleaners
Chemical drain cleaners are the worst when it comes to your home's drain cleaning services. Chemical drain cleaners might get rid of the problem right away, but it's going to cause more damage with time.
Chemical drain cleaners are effective… a little too effective. It's because the drain cleaner is so caustic that it can eat through a clog and then start corroding your drain itself. We know that a chemical drain cleaner might seem like a fast and cheap way out, but it's actually going to cause you more problems with time.
4.      Invest in Maintenance
It's worthwhile to invest in maintenance every single year. Maintenance helps you avoid repair problems and breakdowns. It also makes your plumbing efficiency all that it can be. Our team members can take care of you. Contact us to learn more today.
5.      Spring for Upgrades
If you get the base work of your kitchen plumbing down, you should consider springing for upgrades. Spring is the season for everything new. Consider pulling the trigger on purchasing those new faucets or investing in that farmhouse sink that you've always wanted.
We can help you find the right appliances and fixtures from great brands. We've got the expertise you need to find things that match your home's needs.
Contact Fort Collins Heating & Air Conditioning for your kitchen plumbing services. Big enough to serve, small enough to care.