For many years, Fort Collins Heating & Air Conditioning has given back to the community. For years, we did the FCHA charity of the month. Here's how it worked:
We are continually asking for feedback from our customers on which non-profits they support and why. Our marketing team keeps a list of all organizations that are submitted.
Each month, our management team nominates three local non-profit organizations from that list.
We then have our customers vote via our email campaigns on one of those three charities to be the recipient of the $1,000 and be that month's FCHA Charity of the Month.
These are the charities we chose for the year of 2020.
March 2020 Winning Charity: 3 Hopeful Hearts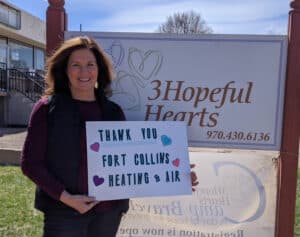 Congratulations to the FCHA Charity of the Month, 3 Hopeful Hearts. They provide grief companionship to families after the loss of a child of any age and any cause. The mission is to help bereaved families through events, support, education and remembrance.
February 2020 Winning Charity: Disabled Resource Services
Congratulations to the FCHA Charity of the Month Disabled Resource Services.  As a certified Center for Independent Living, DRS provides services (free of charge) that empower individuals with disabilities in our community to achieve their maximum level of independence at home and in the community by setting and achieving goals, enhancing self-esteem, self-advocacy, and providing peer support and education.
January 2020 Winning Charity: Kids in Nature
Congratulations to the FCHA Charity of the Month Poudre Wilderness Volunteers Kids in Nature Program.  It is an organization that supports our National Forest Service. The KIN program brings at-risk children from across NOCO on educational hikes in our National Forests. Many of these kids have NEVER been on a hike.