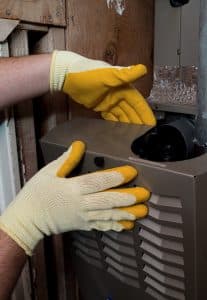 We wouldn't bother writing an entire blog post on the subject if the answer were "yes," would we? If you've been to this blog before–and we do hope that you've taken in some of the information and tips to be found here–then you know that we are huge advocates for annual heating maintenance. You may also know that it's not so much about the timing of the maintenance within the calendar year, as much as it is that it happens once during the year.
With that in mind, no, it is not even remotely too early for heating maintenance in Loveland, CO. Daytime temperatures are beginning a decline into the 70s, and on the lower end of that range in the days to come. Nighttime temperatures, meanwhile, are dropping into the 40s and even the 30s! You may be turning to your heating system before you know it, and it is best to have it ready for action when that time comes.
Make Sure Your Heater Is Running Reliably
Imagine that you're a marathon runner (if you're not in real life, that is; if you are, feel free to skip this step). You train and train, complete your marathon, and then take some well-deserved time off. Now, would you just jump right back into a marathon without getting yourself back into that level of shape again, regardless of how well you performed in the previous marathon? Of course not!
Just because your heater made it through the last heating season successfully does not mean that it is going to do just fine being thrown into another one. Remember, not all issues with your heater are going to result in it breaking down. If you allow the wear and tear on your heater to stack up, though, that is a real possibility over time.
Heat Your Home Affordably
Now, routine heating maintenance is not somehow going to make your heater more efficient than its efficiency rating allows for. What it will do, however, is keep your heater working at or as close to its peak efficiency level as possible. Even if your heater is effectively heating your home, it may be costing you more to run it than it should.
Problems like insufficient lubrication and loose components may not be something that you'd immediately realize. They are the types of issues that can result in reduced energy efficiency, however. Scheduling annual maintenance will allow your heater to work not only as effectively, but also as efficiently, as it can.
Maintain a Good Lifespan
Every time a homeowner pushes a heater through another season of service without the maintenance that it needs, they are effectively shaving some time off that system's lifespan. No heater is going to last forever, obviously. There is no mechanical system out there that can make that claim. With an annual heating tune-up each and every year, though, you can make sure that your heater gives you the best it can for as long as it can.
Fort Collins Heating & Air Conditioning: Big enough to serve, small enough to care.