A quick look at the calendar will tell you we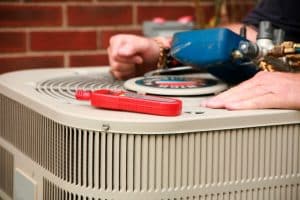 are well on our way toward the coldest time of the year. Right now is the perfect time to schedule your heating maintenance and—if you think your heater may not have another winter's worth of reliable service left in it after all—your heating replacement. Does this mean you should forget all about your air conditioner until next spring, though?
Absolutely not.
If your air conditioner was struggling at the end of this past cooling system, or if you were unhappy with it or its performance for any reason, then now is a great time to schedule your air conditioning replacement, as well. And, as always, you want a trained professional on the job. While an air conditioning installation in Loveland, CO, at this point in time may seem counter-intuitive, there are plenty of reasons to have it done sooner rather than later.
There's a Lot to Be Said for "Just Getting It Out of the Way"
If you contact us just before summer is gearing up again to replace your air conditioning system, then we are of course going to replace that air conditioning system. We'll do it the right way, every step of the way, just as we would at any other time of the year. That being said, it may not be on as expedited a schedule as you'd like, particularly if it is in the midst of AC tune-up season.
Simply put, this is an extremely busy time for air conditioning technicians everywhere, not just those on our team. Because of this, you may have to wait longer than is ideal to have your new system put into place. Summer can come in fast and it can come in hot around here. By replacing your air conditioner now, even if you are not going to need it for a while, you can avoid the potential wait time you may face when spring is winding down.
How Great Is Your Memory?
Okay, so investing in a new air conditioning system may not be the type of thing that you're as likely to forget about as, say, picking up milk or eggs at the market. However, you may not be quite as on top of it as you'd hope when the summer season is drawing near once more. It doesn't matter if you forget about the AC replacement until you're ready to fire it up for the first time, or if you just cut it a little closer to the heat than you intended due to a brief memory lapse.
When the weather does heat up, you don't want to be scrambling to get as big of a job as a full AC replacement done in time. You want to fire up your system (after having it tuned-up,  of course) and enjoy its best performance possible. That's what you'll get when you schedule your AC replacement and other services with our team.