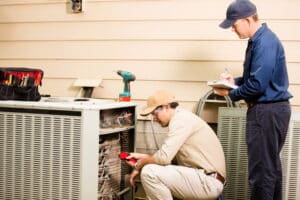 If you're trying to make sure that you're comfortable this summer, then the first thing you need to pay attention to is your air conditioner. Your air conditioner is the system that's going to do the heavy lifting when it comes to your cooling this season. If you're at the point where you've realized that you need new air conditioning installation in Loveland, CO, then it's time to talk to our professionals.
The best part about our team is that we're comprehensive professionals. We're here to help you throughout the entire process. We know how to help you choose the right new brand, help you choose between all your different options, and install the new unit as well.
Tips You Should Know
Here are a few things you should know about your air conditioning installation process and a few ways you can make it easier.
The Best Brands
If you're on the hunt for a new air conditioner, it's great to consider some of the best brands you can get for yourself.  While the specific things that you might need are going to differ from home to home, the best brands typically are the same. We work alongside brands like Mitsubishi. If you'd like our opinion on the best models, you can always call and consult with our professionals for the work you need. We're here to help.
The Needs of Your Home
What are the specific needs of your home? Everyone home's will be different. We want you to consider factors like the following:
The size of your home
The layout of your home
The materials used to build your home
The number of windows in your home
The level of insulation you have in your home
We'll help you take note of all the needs of your home, consider it, and find the right air conditioner for you.
How to Improve
It's important to identify your weak points before an upgrade. A new air conditioner can get you improved service, but it can't solve all your problems. You need to make sure that you have proper insulation, that you have proper ductwork, and that your home is set up to circulate air properly.
Your Different Options
When it's time to upgrade, most homeowners opt for an upgraded model of their current system. While this is something you can do, it's not the only option that you have for your home. Even if you end up going with an updated model of your current system, we do suggest that you consider all your options. You can choose from a central air conditioner, HRV system, ERV system, ductless mini split, or even a heat pump.
A Great Team
The final touch is making sure that you have a great team by your side to perform the work. Having the right air conditioner is important, but you need a great team to make sure that it's installed properly and it can perform for you as well.
Contact Fort Collins Heating & Air Conditioning today to schedule an appointment with our professionals. We're a company you can trust because we're big enough to serve but still small enough to care.