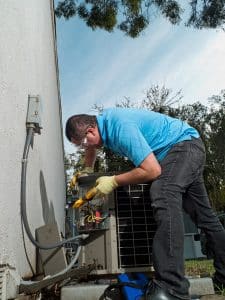 We are obviously at the tail end of the cooling season at this point. Sure, running an air conditioner in early September is not too wild of a concept. The fact is, though, that most homeowners are starting to shift their thoughts away from their home cooling systems and toward their heaters. If your air conditioner has been exhibiting signs of distress, however, it may be a good idea to keep some of your focus on it before moving on to the next season.
We understand that many homeowners are going to question the merits of replacing their air conditioning systems this late in the season. In certain respects, it is completely reasonable to wait until the spring time to replace the AC. After all, you are not going to be using it much at all in the immediate future, right? Well, there are actually a number of reasons why you may want to schedule your air conditioning replacement in Loveland, CO today.
AC Technicians May Have More Availability Now
The peak of the summer season is not the ideal time of the year to be scheduling an air conditioning replacement. First of all, you don't want to go without cooling in your home at that time. Second of all, AC technicians tend to be absolutely swamped during the hottest time of the year with repair and service calls.
However, we're now in that middle ground where the heating season isn't really upon us, but we're also moving out of the cooling season. Why not take the opportunity to at least get in touch with an HVAC contractor and see what their schedules look like? You could even see about scheduling routine heating maintenance when you have your air conditioner replaced!
You Don't Risk Putting It Off Until the Last Minute
Look, we all have good intentions when it comes to household projects, right? But can any of us really admit to being as proactive as we'd like to be? The fact is that some projects can slip through your fingers. This is even truer when you are literally giving yourself months to forget about something!
By the time spring is wrapping up, or if summer should strike early next year, you may find that it is already too late to schedule an AC replacement conveniently. Worse, you may convince yourself that, hey, that ailing old system can probably handle just one more season. Getting out ahead of the replacement helps you to avoid any such misguided hopes.
You May Also Still Need a Good Air Conditioner
If your air conditioner is really showing signs of age, and you think that a breakdown is imminent, it doesn't matter what time of the year it is. Replacing it before it breaks down entirely is always in your best interest. We may get a few hot days that could prove to be the final nails in your system's coffin. Replacing it now gives you a new lease on comfort, even this late in the season.
Schedule your AC replacement with Fort Collins Heating & Cooling. Big enough to serve, small enough to care.