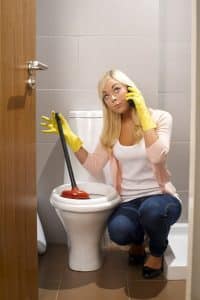 There are two main plumbing lines connected to your home: your main water line and your sewer line. Both are equally as important, though we often think less about our sewer lines. This is because problems often go unnoticed until disaster strikes, and the common signs can be quite subtle. However, it's important to be aware of the signs we've provided for you in this blog. We're all too aware of what the damage can be when issues with your sewer line are left unattended. That's why it is best to schedule regular maintenance to avoid costly repair bills. If you are looking for a plumber in Loveland, CO, look no further than Fort Collins Heating & Air Conditioning.
Your sewer line is the plumbing line responsible for channeling out all the waste from your home. Without this vital plumbing line, things would be quite stinky! It is important to remember that even though the sewer line is connected to a city sewer system, the homeowner is responsible for their own line. So, if your main sewer line becomes clogged, it is up to you to contact a professional to locate the source of the clog and resolve it! Below we have provided a list of warning signs that suggest your sewer line is in trouble.
Puddles in Your Yard
When there is a leak in your main sewer line, you might notice puddles in your yard. It is easy to shrug this off as a symptom of something else, so check to see that it isn't coming from another source, like your garden hose or a sprinkler. If neither of those things are the cause, call a plumber.
Excess Greenery
If you begin to see more greenery spurt up in your lawn, it might be due to a leak in the sewer line. The leakage acts as a fertilizer, making vegetation grow more rapidly. Often, you will notice that the vegetation appears to be healthier and greener.
Foul Odors
Let's face it, a clogged sewer line is going to emit some funky odors. If you notice any unpleasant smells coming from your drains or in your basement, it is time to contact a plumber. Trust us, you would not want to wait until the sewer line backs up into your home.
Slow Drains
If the water in your sinks, bathtub, or shower doesn't drain as fast as it used to, it might be due to a clogged sewer line. If you notice multiple drains appear clogged, don't hesitate to schedule an appointment with a professional.
Mold and Mildew
A leak in the sewer line creates an excess amount of moisture, which can lead to mold. If you see a sudden growth of mold, or smell mildew, there might be trouble with the sewer line.
The best way to avoid a damaged sewer line is to schedule regular maintenance and inspection. A plumber can check for minor problems that could eventually grow into a major one. However, if a problem does arise, Fort Collins Heating & Air Conditioning is here to help. We offer a variety of plumbing services including installation, maintenance, repair, and replacement.