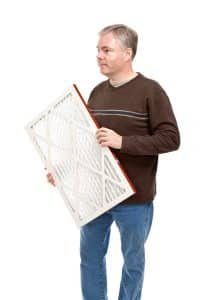 Are you one of those homeowners who is diligent in scheduling routine air conditioning maintenance services each and every year? If so, then we applaud you. This is a responsible trait to possess, and one that is sure to help keep your air conditioning system running as effectively, efficiently, and reliably as possible. However, you must also keep in mind that routine maintenance alone is not necessarily enough to get you the cooling performance you deserve.
There is at least one major step that you should take on your own, and that is changing your air filter. No, you cannot complete a full AC tune-up on your own. However, you can change the air filter yourself, and you should be doing so as needed. This is typically required every 1 to 3 months, though a number of factors will influence how frequently your filter actually needs to be changed. So read on and learn more about how changing your air filter benefits you, including keeping air conditioning repairs in Windsor, CO at bay.
Yes, It Is That Big of a Deal
We know what some homeowners reading this are probably thinking. Really? I need to change my air filter that frequently? Is that really necessary? 
The answer is yes. It is that necessary. A dirty air filter may not seem like that big of a deal, particularly if you have not noticed a marked decline in overall indoor air quality. However, the function of this filter is not to boost indoor air quality throughout your home. Instead, it is there to protect your HVAC system itself from the various problems that may arise when pollutants like dust and dirt build up on its components.
What Kind of Problems Are We Talking About?
For starters, you are going to see a dropoff in system energy efficiency. If you are trying to cool your home in the most efficient manner possible (and why wouldn't you?) you are definitely not going to want to keep a dirty air filter in place. That is going to make it harder for the system to force air through it, and that is going to cause the system to consume more and more energy as it tries to do its job. You'll see this reflected in your overall energy costs.
You will also notice that you are paying more for a lesser cooling output. Your system just won't work as well as it should if it is contending with a dirty air filter. It may even wind up short cycling, meaning that it will start up, run briefly, then cycle back down rapidly. When that happens, you are going to consume more electricity than you should have to because your system uses more energy when starting up than it does when running normally. Plus, you are putting a lot of wear and tear on the system, and the decreased airflow can cause the evaporator coil to ice up, insulating it and making the problem worse.
Schedule your AC services with Fort Collins Heating & Air Conditioning. Big enough to serve, small enough to care.