Looking ahead at the weather forecast, you may be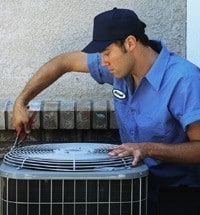 wondering why we are even mentioning your air conditioning system right now. No, you are not going to need to run your AC in the immediate future. However, it is not going to be much longer before the time comes to put your air conditioner back to work. If you want to ensure that your home cooling system is ready for action when you need it, then you should go ahead and schedule your routine air conditioning maintenance for the season.
It is impossible to overstate just how important it is that you schedule regular air conditioning maintenance in Timnath, CO. Only when your system is thoroughly tuned up by a qualified professional can you expect it to operate at peak performance levels. There is likely more to routine maintenance than you even realize. Count on our technicians to ensure every single step of the process is completed with care.
Why Can't I Do My Own Maintenance?
Sometimes the simplest answer is the correct one. Routine air conditioning maintenance is simply beyond the skill level of even the most avid DIY enthusiast or handyman. There is no way that you can tune up your air conditioner properly on your own, unless you happen to be a professional AC technician by trade.
Now, there are a few very basic maintenance services that you can and should handle on your own. For instance, you should be changing your air filter regularly, typically every 1 to 3 months depending on how quickly it gets dirty. You can also do things like keep your outdoor condenser unit free of debris. There is much more to a full maintenance tune-up than these basic tasks, though. Following is a partial list of what we'll do during a maintenance visit.
Test and evaluate overall system operation.
Clean/replace filters.
Record operating temperature/pressure.
Record amperage draw.
Clean condenser coil.
Inspect condensate drain pan and line, clean as needed.
Lubricate moving parts.
Check all electrical connections and components.
Check refrigerant levels.
Why Is All of This Necessary?
Because a well-tuned air conditioner is simply going to outperform a poorly maintained air conditioner in every facet of its operation. When a system is routinely tuned-up, that system is going to operate more efficiently than it otherwise would, which saves you money in operating costs. It will also operate more reliably, with a reduced risk of damages and problems developing. In fact, routine maintenance can even extend equipment lifespan.
Ask About Our Energy Savings Agreement
If all of this isn't already enough to convince you of the merits of routine air conditioning maintenance, you should also consider the fact we offer an Energy Savings Agreement to make things as simple as possible while also offering you further benefits.
As a member of our program, you get discounted rates on repairs, saving 15% should anything go wrong with your system. You will also never pay overtime costs, and you get priority customer status. We guarantee same-day service and will work to accommodate your schedule.
Schedule your AC maintenance with Fort Collins Heating & Air Conditioning. Big enough to serve, small enough to care.