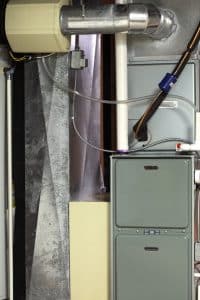 It is a question as old as time—should I use a gas furnace or an electric furnace? Okay, so that may be something of an overstatement, but that doesn't change that it is, in fact, a very common question. And it is one that we cannot answer definitively for all of our readers here and now. Why not? Because both types of furnaces have their pros and cons, and a number of factors must be considered in each individual case.
There is no such thing as a completely perfect furnace for everyone, or a perfect furnace in general. All users will require furnace repairs in Windsor, CO at some point, for instance. Today, we'll take this opportunity to explore some of the benefits of using a furnace, and we'll also look at some factors to consider when deciding whether a gas or electric model is right for you. So read on, and be sure to reach out if you have any questions or are ready for outstanding furnace services.
Heat Distribution Is the Same
Regardless of which type of furnace you use,  gas or electric, you'll still be heating air directly. Once that air is heated, then you'll be distributing that heated air throughout your house via a system of ductwork. This is something of a benefit in its own right. If you use a whole-house air conditioning system in order to cool your home, then you are already using ductwork. That means the furnace and the AC can share the same distribution system.
Electricity Is Efficient, But Still More Expensive
Some homeowners mistake "efficient" as meaning the same thing as affordable. In reality, however, you're talking about two separate issues. Electricity is the more expensive of the these two resources. However, electric furnaces are also the more efficient option. What does this mean for you?
When you use an electric furnace, you are not losing any heat to flue gases. That means that you're working at nearly 100% efficiency, but could still wind up paying more to heat your home than you would if using more affordable natural gas. However, electric furnaces also tend to be cheaper to install and purchase. Not every home has gas hookups in place, either, or even available as a possibility.
Natural Gas and Electricity Are Both Versatile
So chances are that you use electricity in your home. It's a ubiquitous resource in this day and age. Does the fact that you have electricity already at your disposal mean you shouldn't bother connecting your home to a natural gas line? Definitely not.
While electricity is necessary in your home for lights, powering the fans of certain heating systems, and water heaters, etc., it doesn't have to be the only resource that you use! Mixing and matching is typically the way to go. We use our heaters enough in this part of the country that it makes sense to opt for the more affordable options in most cases. If you have access to natural gas, we'd suggest taking advantage of that. You can also use it to heat water for use throughout your home, and to fuel your oven/range, and other appliances.
Fort Collins Heating & Air Conditioning. Big enough to serve, small enough to care.