Winter in this area can be truly beautiful. It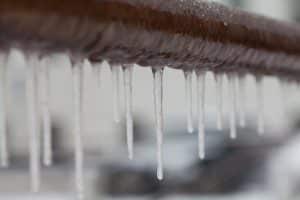 can also be a whole lot of fun! Of course, coming home to a house full of frozen pipes or a flooded basement due to a burst pipe sucks the fun right out of things. Trust us on that one. That is why our plumbers in Wellington, CO want to ensure that homeowners have some tricks up their sleeves. What kinds of tricks? The kinds that will help you to limit the risk of frozen pipes this winter season!
No, you do not need to purchase expensive heating units designed to keep your pipes warm in order to keep them safe this winter. These tips are practical, effective, and, best of all, simple! If you've ever experienced problems with frozen pipes, then you know how much you want to avoid them. And, if you haven't, consider yourself lucky—but don't push that luck. Instead, keep these tips in mind and reach out with any questions that you may have.
Keep Your Cabinets and Drawers Open
Okay, this one is not going to result in a finely tuned aesthetic for your home, but do you really care that much? We're talking about the purely functional, here, and keeping cabinet doors and drawers open is actually a very effective way to keep your pipes from freezing over. It may look strange, but the benefits outweigh any such concerns.
Basically, you're just allowing for airflow around any pipes passing under your cabinets, behind drawers, etc. You heat your home in the winter, but keeping these doors and drawers closed can prevent that heat from warming up pipes in these areas. That missing airflow may mean the difference between water moving through your pipes or freezing up and leading to ruptures from the pressure within!
Insulate Your Pipes
Normally, we'd be telling you that adding insulation to your home is something that only trained professionals can do. And this is true, in most cases. When it comes to insulating your pipes, though, you can do the job yourself. You just need some pipe insulation tubing and something to cut it down to size .
There is no messy spray or R-value calculation to worry about here. Just buy the tubing, snip it to size, and pop it over your pipes. While you're at it, be sure to check if your hot water line is insulated, too. If not, then you're allowing heat to transfer through that pipe out into the air surrounding the water heater. Just an extra tip for you!
Keep the Water Trickling
You've probably heard this one before, but you may have written it off as a waste of water. Water is only wasted, though, when you're really not using it. In this case, you are using the water. Just not for what you normally do.
Keep a small amount of water flowing through your pipes, and you'll be investing in the safety of those pipes. Sure, you're paying for water you're just pouring down the drains—but at least there is water flowing to drain, right?
Schedule your plumbing services with 
Fort Collins Heating & Air Conditioning. 

Big enough to serve, small enough to care.