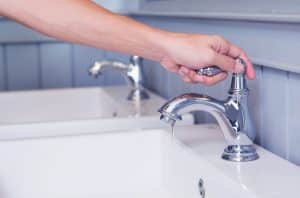 Your bathroom is the apex of the plumbing system in your home. Yes, you have a water heater tucked away somewhere in your house. And sure, you have plumbing fixtures in your kitchen. But when you hear the word "plumbing," we're willing to bet that it's the bathroom that springs to mind. And that makes sense. It's where most of your direct interaction with your plumbing system takes place. Unfortunately, due to this concentration, it's also where many plumbing problems will surface.
When you encounter bathroom plumbing issues, and encounter them you will, you'll need to get in touch with a professional plumber in Windsor, CO, immediately. The longer that you wait to do so, the worse off your plumbing system is going to be. Trust us, we've dealt with many extensive, complex, and costly bathroom plumbing repairs that could have been a lot more minor had the homeowner acted faster.
Clogged Drains and Toilets
If there is one plumbing problem that we can all but guarantee that every homeowner will run into eventually, it's the dreaded clog. Clogs aren't always that serious, but failure to take clogs seriously can definitely lead to much more serious problems than you may realize. Let's put it this way—if you can effectively clear a clog with a few pumps of the plunger, great. Problem solved. If you can't resolve the clog that simply, do not turn to online tips or tutorials for what to try next. You need the help of a professional.
Remember, there is a world of difference between removing enough of a clog to allow water to pass through, and effectively clearing that clog to resolve the current and also to help prevent the problem from developing again before long. When it comes to lasting results, professional drain cleaning is the way to go.
Leaks of All Kinds
That dripping faucet may just seem like a bit of an annoyance, but consider this—you are paying for every drop of water that comes out of that faucet and goes down that drain, regardless of whether or not you are actually using that water. This can be a major waste of water and your hard-earned money over time, not to mention the environmental impact of consistent water waste.
Then there are those leaks that seem a lot more pressing because they are either disrupting your life or putting the condition of your home at risk. We're talking a leaking toilet tank that renders your toilet inoperable, leaks that are occurring behind walls or beneath floors, etc. Remember, by the time you actually notice a leak, there is a good chance that this leak has been in action for a while already. That means that some damage may have already occurred, and is only going to get worse. This is not a time to delay in scheduling professional plumbing services. We'll find the source of the leak accurately, and we'll resolve it completely.
Schedule your plumbing services with Fort Collins Heating & Air Conditioning. Big enough to serve, small enough to care.